Saint-Saens Piano Concerto No.2 was created by the composer in 1868. Saint-Saens's overall musical style inherits the elegant and rigorous style of traditional French music, but also does not lack timely innovation. He pays more attention to the inner charm and emotional pursuit of the work, therefore, we can see in this concerto more regular structure and beautiful melodic lines. This piano concerto has a wonderful, fresh and elegant musical style. The sound of the music is clear and smooth, so that the spirit of the audience slowly relax, happy and relaxed. This concerto not only has the difficulty of playing technology, but also has a wealth of musical expression, it pays more attention to the part of the playing, so that the piano and other musical instruments, can produce magnificent sound effects.
Tchaikovsky's Symphony No.5 in E Minor was completed by the composer in the spring and summer of 1888. Before the composition of this symphony, Tchaikovsky had long moved to Western Europe, so his work also showed the "Western European" color. Tchaikovsky said in his original note: "This work is from completely listening to fate, to doubting fate, and finally determined to overcome the tragic fate through struggle, the expression of the idea of affirmation of life." "The Fifth Symphony" is the most complex part of Chai's "Sad Trilogy", and the final song is the most contradictory and unbalanced piece of music. This music of "expressing life, joy and happiness" is very moving, and countless people who have suffered are very kind.
Programme
Ludwig van Beethoven(1770-1827)
Egmont Overture
Charles Camille Saint-Saens(1835-1921)
Piano Concerto No.2 in G Minor,Op. 22
I. Andante Sostenuto
II. Allegro Scherzando
III. Presto
Intermission
Peter Ilyich Tchaikovsky(1840-1893)
Symphony No.5 in E Minor,Op.64
I. Andante-Allegro Con Anima
II. Andante Cantabile
III. Allegro Moderato
IV. Andante Maestoso -Allegro Vivace
【Artists】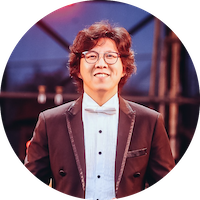 Conductor | Xiao'ou Zhao
He is a young conductor. He currently is an associate professor of conducting at Shanghai Conservatory of Music, director of chamber music at Affiliated Music School of SHCM, resident conductor of symphony orchestra of Affiliated Music School of SHCM, and distinguished professor at Shanghai Orchestra Academy.
Born in Shanghai in 1978, he studied piano from an early age. In 1990, he was admitted to shanghai Conservatory of Music secondary school. In 1996, he was admitted to the composition and conduct department of Shanghai Conservatory of Music with honors, and was taught by Professor Zhang Mei. In 2001, he graduated to teach in the Middle School. In 2003, he received a full scholarship from the University of Memphis to study for a master's degree in band conductor in the United States, following in the footsteps of Dr. Jiang Puqi, a tenured professor at the University of Memphis. During his time in the United States, he conducted the University of Memphis Symphony Orchestra and gave several high-quality concerts. After obtaining his master's degree in 2005, he was awarded a full scholarship to the National Academy of Conduct and went on to further his studies at ASPEN MUSIC FESTIVAL, where he was ted by the conductor DAVID ZINMAN and the music director of the National Symphony Orchestra, LEONARD SLAKIN. In 2005, he returned to China to teach at the Shanghai Conservatory of Music.
During his studies, he conducted a number of orchestras including the Shanghai Philharmonic Orchestra, Shanghai Opera Symphony Orchestra, Zhejiang Symphony Orchestra, Suzhou Symphony Orchestra, Fujian Symphony Orchestra, Sichuan Philharmonic Orchestra, Shanghai Conservatory Of Music Symphony Orchestra, Shenyang Conservatory Of Music Symphony Orchestra, and many other orchestras in New York, Los Angeles, Las Vegas, Memphis, St. Louis, Berlin, Eingen, Austria Concerts were successfully conducted in Daegu, South Korea, as well as in many cities in the country.
In October 2009, at the invitation of the U.S.-China Foundation, he conducted a concert at Avery Fisher Hall at Lincoln Center in New York to mark the 30th anniversary of the establishment of diplomatic relations between China and the United States, which was well received by President Nixon's son-in-law, Mr. Edward Cox, then chairman of the New York Republican Party, and other domestic and foreign experts.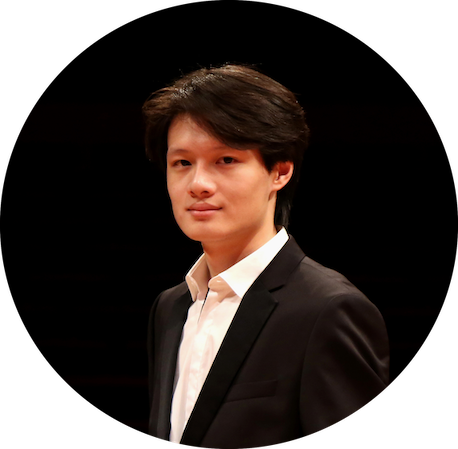 Pianist | Xiaofu Ju
Pianist Xiaofu Ju was awarded first prize in the Second Hong Kong International Piano Competition, the Eighth Asian Piano Finals, the first Shanghai Himalaya National Youth Piano Competition, and the First Youth Piano Competition of Shanghai Conservatory of Music.
He was a finalist of The Pearl River Piano Competition in China and recipient of the Juilliard Kenneth M. and Josephine J. Bissell Scholarship, the Martin Canin Scholarship and the Adele Marcus Piano Scholarship. Ju was a featured soloist on the opening ceremony of the second Youth Olympic Games and the Salzburg Profound Arts Festival.The world-renowned Pianist Jörg Demus recognized Ju as a "Pianist with promising talents and a natural depth in music."
In recent seasons, Ju has performed with the China Philharmonic, Beijing Symphony and Jiangsu Symphony orchestras as a soloist, appeared in recitals in New York, Bergen, Beijing, Nanjing, Quanzhou and Lanzhou. Xiaofu has also given lecture-recitals featuring Debussy preludes.
Ju has performed in Wiener Musikverein, Salzburg Congress, China National Center For The Performing Arts, the Great Hall of People in Beijing, Shanghai Concert Hall, Shanghai Oriental Art Center, Shanghai Symphony Hall, in addition to venues in New York, Los Angeles, Norway, Croatia, Guangzhou, Nanjing, Japan, Singapore, Kuala Lumpur, Hong Kong, etc.
Since his orchestral debut at age 14 with Shanghai Philharmonic, where he performed Beethoven Piano Concerto No.3, he has successfully played with orchestras including European Union Symphony, China Central Opera House, Shanghai Philharmonic, Shanghai Opera House, Japan Gunma Symphony, Russian Ке́меров National Symphony, Jiangsu Symphony, and the Hong Kong Youth Philharmonic.
Ju has had the honor to study and play for many influential pianists, including Jörg Demus, Gary Graffman, Tamas Vasary, Vladimir Viardo, Jerome Lowenthal, Arie Vardi, Shikun Liu, Boris Berman, Dina Yoffe, Robert Levin, Pavlina Dokovska, Dimitri Alexeev, Vladimir Ovchinnikov and Leif-Ove Andsnes.
Ju started learning piano at the age of 4. He is a graduate from Music Middle School Affiliated to Shanghai Conservatory of Music, where he studied with Ting Zhou. Ju is currently pursuing his Bachelor of Music Degree at The Juilliard School under the
tutelage of Yoheved Kaplinsky. In 2019, he published a collection of his poetry, On the Path Seeking for the Ruins of Spring.
Xiaofu Ju was chosen to be the first ambassador of Pearl River Piano.
【Performance teams】
XI'AN Symphony Orchestra
Xi'AN Symphony Orchestra(XSO) is proud to be the resident orchestra at both Shaanxi Performing Arts Center and Xi'an Concert Hall.
XSO was born in Xi'an, the ancient capital city with a thousand years of history as well as the starting point of the Silk Road. Standing at the threshold of a new era, XSO thrives in the spirit of friendship, openness and inclusiveness. Embracing new ideas and a new mission, XSO advocates for changes and creativity. It's a great combination of classics and innovation.
So far a great number of world-class maestros, including Tan Dun, Zheng Xiaoying, Midori, José Carreras, He Hui, Yin Chengzong, Li Yundi, etc. have witnessed the appreciable growth of XSO over the past years. According to Zheng Xiaoying, "XSO's performances should be considered at the national level". Carreras also commented, "With its vigor and passion, the potentialities of XSO are inexhaustible".
Since being founded in 2012, it has been performing every music season. With its passion, expertise and vitality, XSO has gained high-profile recognition from all artists it worked with.
During the 2017 season, XSO chose "A Tribute to Beethoven" as its theme and presented all nine Beethoven symphonies, which marked its fourth consecutive season. Its seasonal performances of creativity and passion help it develop an international presence through many excellent musicians as well as attract more and more citizens to the world of classical music.
Apart from its seasonal performances, XSO's successful participation in operas, such as Tosca, La traviata and Le Nozze di Figaro, has improved its expertise tremendously as well. It introduced the art form of opera to more people and at the same time made itself an orchestra with excellence in both symphonies and operas.
When Shaanxi Performing Arts Center was inaugurated in October 2017, XSO drew on its experiences in the area of opera and coproduced the opera of Turandot with an Italian production team, making the center, first of its kind in China, to produce an opera as its opening show.
XSO dedicates itself to the cultivation and representation of symphonic chamber music of the city. It understands the crave of people for art and music and is proud to be a music messenger by promoting public welfare projects, such as annual outdoor performances and citizen concerts. XSO devotes itself exclusively to shaping the present and the future of the city!