Dvorak 's Symphony No. 8 is a highly bohmian one , which is also known by many as the "Poetic Symphony" because of its taste of interest. The Symphony was written in the summer and autumn of 1889, when the composer was in his Vesoka country house. Of all Dvorak 's symphonies, this one has the most personal involvement and uniqueness. It reflects a purely calm state of mind and a sense of joy and pride, which is closely related to the composer 's specific state of mind and experience; Here, the composer does not shy away from the direct connection with the Czech folk music country that inspired and nurtured him, and the whole work is full of love for the land of the motherland and its people and art, as if directly from the bohemian wilderness and Czech folk.
Slavonic Dances is one of Dvorak 's masterpieces. Although it is named "Dance Music", it is not practical music used to accompany dancers, but the orchestral music written by composers in the form of folk dance music, which belongs to the music of the concert hall. Writing short lyrics in the form of folk dance music is a common practice of romantic music, and Chopin's Mazurka and Polonaise, Weber 's Allemande, Brahms' Hungarian dance music, all belong to this kind of music. In these small pieces named after the dance music, the composer deliberately pursues the lyrical melody, using it to appeal directly to emotion, so that these dance music becomes pure lyrical works. "Slavonic Dances" is popular with its brilliant colors, warm youthful atmosphere and simple inner lyricism, and Dvorak deserves to be a composer with a world reputation.
Programme
Ludwig van Beethoven(1770-1827)
Coriolanus Overture
Antonio Dvorak(1841-1904)
Symphony No. 8 in G major, Op. 88
I. Allegro Con Brio
II. Adagio
III. Allegretto grazioso
IV. Allegro,ma non troppo
Intermission
Antonio Dvorak(1841-1904)
Slavonic Dances,Op. 46&72
I. No. 2 in E minor-Allegretto scherzando
II. No. 5 in A major-Allegro vivace
III. No. 7 in C minor-Allegro assai
IV. No. 8 in G minor-Presto
V. No. 2 in E minor-Allegretto grazioso
VI. No. 7 in C major- Allegro vivace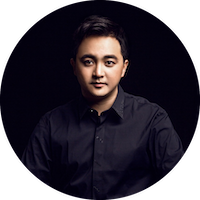 Conductor / Sun Ying
Sun Ying, young conductor of travel to France. Born into a musical family, he studied piano with his parents and grandparents Lin Xue, Cen Ying and Professors Zhou Guangren and Ye Huifang from an early age, and learned composition theory from Professor Wang Bin.
Graduated from the Central Conservatory of Music, he studied symphony conduct with the famous conductor and educator Professor Xu Xin, served as the rehearsal conductor of the secondary school affiliated with the Central Conservatory of Music, the affiliated primary school band, and had good cooperation with the Central Ballet Symphony Orchestra, the Chinese Film Orchestra, the Chinese Opera and Dance Theatre Symphony Orchestra, and the Symphony Orchestra of the Xu Beihong School of Art of People's University.
After graduation, he studied in France, studied in the conductor's department of the Higher Normal School of Music in Paris, and participated in a masterclass of many famous conductors, during which time he conducted rehearsals with the Orchestra of the Paris Conservatory of Music, a world-renowned symphony orchestra.
Since 2011, he has served as an assistant conductor to the famous Chinese conductor Mr. Tang Muhai, and has had many exchanges and cooperation with the National Symphony Orchestra of China, Beijing Symphony Orchestra, Guangzhou Symphony Orchestra, Qingdao Symphony Orchestra, Shaanxi Symphony Orchestra, Xi'an Symphony Orchestra, Tianjin Symphony Orchestra, Xiamen Philharmonic Orchestra, Fujian Symphony Orchestra, Henan Symphony Orchestra, Lanzhou Symphony Orchestra, Harbin Symphony Orchestra, etc.
Under the support of the famous contemporary composer Mr. Guanxia, he was invited to conduct the Chinese National Symphony Orchestra's "Dragon Voice Hua Yun" series of concerts in 2015 and the Chinese National Symphony Orchestra's elegant art into the campus concert in 2016. In 2017, the Chinese National Symphony Orchestra completed the recording of 15 award-winning songs from the Ministry of Culture. In 2017, we successfully completed the task of assistant music director and assistant conductor of Xiamen BRICS International Leaders' Conference. In 2018, he directed a visit by the Central Committee of the Communist Party of China (CPC) at the Great Hall of the People. In 2019, as an assistant conductor, he participated in a large-scale literary and artistic performance of "Struggle, Chinese Descendants" on the 70th anniversary of the founding of the People's Republic of China in the Great Hall of the People.
XI'AN Symphony Orchestra
Xi'AN Symphony Orchestra(XSO) is proud to be the resident orchestra at both Shaanxi Performing Arts Center and Xi'an Concert Hall.
XSO was born in Xi'an, the ancient capital city with a thousand years of history as well as the starting point of the Silk Road. Standing at the threshold of a new era, XSO thrives in the spirit of friendship, openness and inclusiveness. Embracing new ideas and a new mission, XSO advocates for changes and creativity. It's a great combination of classics and innovation.
So far a great number of world-class maestros, including Tan Dun, Zheng Xiaoying, Midori, José Carreras, He Hui, Yin Chengzong, Li Yundi, etc. have witnessed the appreciable growth of XSO over the past years. According to Zheng Xiaoying, "XSO's performances should be considered at the national level". Carreras also commented, "With its vigor and passion, the potentialities of XSO are inexhaustible".
Since being founded in 2012, it has been performing every music season. With its passion, expertise and vitality, XSO has gained high-profile recognition from all artists it worked with.
During the 2017 season, XSO chose "A Tribute to Beethoven" as its theme and presented all nine Beethoven symphonies, which marked its fourth consecutive season. Its seasonal performances of creativity and passion help it develop an international presence through many excellent musicians as well as attract more and more citizens to the world of classical music.
Apart from its seasonal performances, XSO's successful participation in operas, such as Tosca, La traviata and Le Nozze di Figaro, has improved its expertise tremendously as well. It introduced the art form of opera to more people and at the same time made itself an orchestra with excellence in both symphonies and operas.
When Shaanxi Performing Arts Center was inaugurated in October 2017, XSO drew on its experiences in the area of opera and coproduced the opera of Turandot with an Italian production team, making the center, first of its kind in China, to produce an opera as its opening show.
XSO dedicates itself to the cultivation and representation of symphonic chamber music of the city. It understands the crave of people for art and music and is proud to be a music messenger by promoting public welfare projects, such as annual outdoor performances and citizen concerts. XSO devotes itself exclusively to shaping the present and the future of the city!