1.80 (Buick Student Tickets) / 100 (Welfare Tickets) are only available at the official Tmall store.

2.Package:799(480*2)、969(580*2)、1199(480*3)、1399(580*3)

3.Purchase tickets with Postal Savings Bank of China's credit card start with 62 and choose union pay to enjoy 100RMB off for over 200RMB purchase in addition to use member discount. (only once per day, twice per month).
Spring 1942. At a quiet patrol station, away from the war, the members of a half-platoon of antiaircrafters spend their days drinking hooch and chasing after girls to while away their boredom. Vaskov, the platoon commander, delivers report after report to his senior officers requesting that he be given soldiers indifferent to women and alcohol. His wish is finally granted when he is ordered to take command of a group of female soldiers.
Boris Vasilyev's novel about the love, life and death of female anti-aircraft gunners has been staged many times. But this may be the first time that this is done without the intent of telling about the heroism of women in war. In the Masterskaya Theatre's production, the spotlight is aimed at the absurd cruelty of a world in which men kill women, in which beauty, femininity and motherhood are destroyed...
The premiere took place on September 2nd, 2011.
Original Boris Vasiliev
Director and playwright Polina Nevedomskaya
Production Designer Anna Markus
Light Designer Elena Kuznetsova
Music Director Andrei Yurev
Video Director Konstantin Shepanovskiy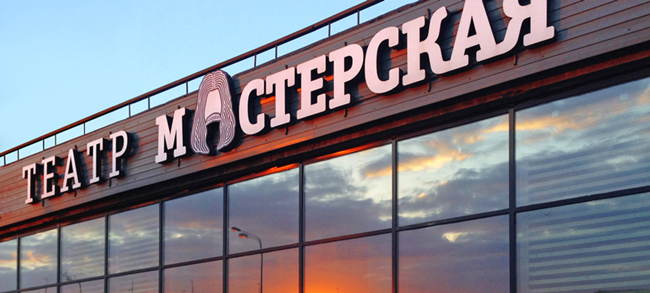 The St.Petersburg Masterskaya Theatre
The St.Petersburg Masterskaya Theatre is a professional dramatic theatre founded in 2010 by the Acting and Directing class of Professor Grigory Kozlov at the St. Petersburg State Theatre Arts Academy. Kozlov has been teaching at the Academy since 1995. Graduates from his class have distinguished themselves with their professionalism, rare scenic education and adherence to the esthetic and ethical principles of the Petersburg theatre school of G. A. Tovstonogov, A. I. Katsman and Z. Y. Korogodsky.
All of the theatre's actors are graduates of Professor Kozlov's class. More than just classmates, they belong to a single school of theatre. Even as students of the Academy they already distinguished themselves with their powerful performances, each of which was a theatrical event, attracting the attention of the critics and the praise of the public. Kozlov's class was spoken of as a unique theatrical collective of like-minded persons that must be conserved. Thus was the Masterskaya Theatre born.
The theatre's repertoire is made up of productions staged by Grigory Kozlov and his student directors. This repertoire stands apart due to its range of genres and styles and it is addressed to the widest demographic.