The power of the fusion of Eastern and Western
Wild and beautiful cross-cultural experience
"Juggles ancient and contemporary disciplines to create something startlingly new."
-The Age
Known for its brash and friendly people, spicy food, laid back tea-houses, and the distinctive twang of its spoken dialect, Sichuan is the Texas of China. It is from Sichuan that philosopher Lao Tau, according to legend, mounted a water buffalo and rode off into the sunset, never to be seen again. Its music combines colours from rustic country folk, street songs, and the ear splitting cacophony of gongs and cymbals. It is more like blues or early rock and roll than classical music. Even the opera is hard core, featuring long stretches of voice and percussion which could be straight out of an avant grade composition by Luciano Berio.
Australian musicians Erik Griswold and Vanessa Tomlinson (Clocked Out) have been travelling to Sichuan for 15 years, learning about the local music and collaborating with musicians and dancers. Their good friend, composer Zou Xiangping, has introduced them to some legends of Sichuan music, like the last Jinqianban storytelling master Zou Zhongxin. Their previous collaborations have produced three large scale shows - Chengdu Streetsongs, Sichuan Fantasy, and The Wide Alley - that have toured in China, Australia, Canada and New Zealand.
In Water Pushes Sand, composer Erik Griswold and the Australian Art Orchestra team up with all star musicians and performers of Sichuan to create a colourful collage of winds, piano and percussion. The ten-piece big band fuses traditional Sichuan melodies and rhythms with modern jazz improvisation to create a wild intercultural celebration. With dramaturgy and direction from Tamara Saulwick (Pin Drop, Endings, Chamber Made Opera), and video shot on location in Chengdu, Water Pushes Sand evokes the tea-houses, streets, and rivers of Sichuan. On stage the musicians wear the brightly coloured traditional masks of Sichuan Opera as they explore the changing faces of Chinese and Australian Culture.
Water Pushes Sand is a major new musical work for the Australian Art Orchestra and is central to the orchestra's 2015 program under Artistic Director Peter Knight. In partnership with the Sichuan Conservatory of Music, it explores, decontextualise and reinvigorates the disappearing and endangered music of China's Sichuan Province.
The 2017 and 2018 tours of Water Pushes sand are supported through the Australia Council for the Arts, Creative Victoria and the Australia China Council.
The original development and presentation of this project was supported by the Australian Government through the Australia International Cultural Council, an initiative of the Department of Foreign Affairs and Trade, as well as the Australian Council for the Arts (Creative Partnerships with Asia) and Creative Victoria.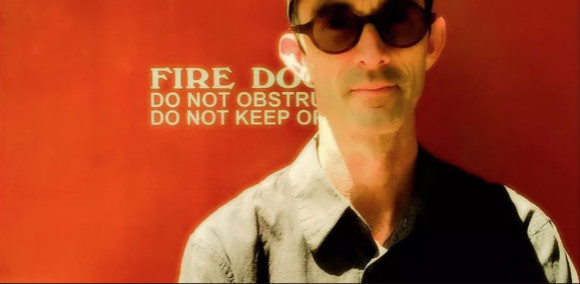 Erik Griswold-Conductor/ Pianist
Erik Griswold is a composer and pianist working in contemporary classical, improvised, and experimental forms. Particular interests include prepared piano, percussion, environmental music, and music of Sichuan province. Originally from San Diego, and now residing in Brisbane, he composes for adventurous musicians, performs as a soloist and in Clocked Out, and collaborates with musicians, artists, dancers, and poets.
Together with Vanessa Tomlinson, Griswold directs Clocked Out, who create original music for prepared piano, percussion, found objects, and toys. Their albums include Time Crystals, Foreign Objects, Water Pushes Sand, and Every night the same dream. Clocked Out also produces innovative concert series, events and tours, for which they have received two APRA-AMCOS Art Music Awards (Excellence by an Organisation / 2011, and Excellence in Experimental Music / 2017) and two Green Room Awards (2000).
Australian Art Orchestra(AAO)
With an emphasis on improvisation, The Australian Art Orchestra (AAO) explores the meeting points between disciplines and cultures, and imagines new musical forms to reflect the energy and diversity of 21st century Australia.
Founded by Paul Grabowsky in 1994 the AAO is one of Australia's leading contemporary ensembles. Now led by daring composer/trumpeter/sound artist Peter Knight, its work constantly seeks to stretch genres and break down the barriers separating disciplines, forms and cultures. It explores the interstices between the avant-garde and the traditional, between art and popular music, between electronic and acoustic approaches, and creates music that traverse the continuum between improvised and notated forms.
The Australian Art Orchestra nods to the hugely influential, Art Ensemble of Chicago in its name, as do a number of other famous groups including the Vienna Art Orchestra, and in doing so it builds on a set of ideas that stretch back to the beginnings of jazz. These ideas in turn drew on an extraordinary collision of cultures, ways of thinking, and folk traditions that are so old that their beginnings are untraceable. The AAO's music may sound very little like American jazz these days but the restless energy that made jazz such a force in the twentieth century still drives the projects it makes, including with the traditional songmen from Ngukurr in Arnhem Land (Crossing Roper Bar), with Bae Il Dong, the Korean p'ansori singer (The Return of Spring), with Guru Kaaraikkudi R. Mani from Chennai (Two Oceans), with Nicole Lizee, Alvin Lucier (Exit Ceremonies) and with an extraordinary range of Australian artists from a range of disciplines. This is Australian 'jazz' in 2018!
The Australian Art Orchestra has won many awards, nominations and much praise for its work. Most recently Diomira, composed by Peter Knight, won the 2016 Albert H Maggs composition prize and was nominated for the APRA/AMCOS Art Music Awards 'Work of the Year', while Erik Griswold's Sichuan inspired, Water Pushes Sand, was nominated for the 2017 ARIA for Jazz Album of the Year. The group has also won three Australian Jazz Bell awards (most recently in 2014), the 2014 AMC/APRA Art Music Award 'Excellence by an Organisation', 2013 AMC/APRA Art Music Award 'Performance of the Year', a 2010 Sidney Myer Performing Arts Awards (Group Award), the H C Coombs Creative Arts Fellowship (2010), a Helpmann Award (2004), and a 2009 Classical Music award for 'Outstanding Contribution to Australian Music in a Regional Area'. The AAO regularly tours both locally and internationally with recent highlights including the 2018 London Jazz Festival, and 2018 Jazztopad Wroclaw (Poland).